Regular price
Sale price
€26,99
Unit price
per
Sale
Sold out
AGUAJE | Mauritia flexuosa
A gift from Mother Nature especially to women
Aguaje is a palm fruit traditionally used by women of the Shipibo tribe. The tree itself is also referred to as the "sacred tree of life" and the fruit as the "female fruit of beauty". This palm grows wild along the Amazon and Orinkos, but is also planted near villages for its graceful beauty and splendor. The sight of this beautiful palm tree is simply breathtaking - you can see immediately that concentrated femininity is hidden in it.
Good for :
Healthy nails, hair and skin
Helps to balance natural hormone levels in the body
Promotion of estrogen production in the female body
has a positive effect on the relief of migraines and menstrual cramps
Support for shaping natural "female curves" (suitable for diet)
Used by Native American women to support pregnancy (including during pregnancy).
Native Americans also feed it to their young children (boys up to age 7) to strengthen bones and aid muscle growth
Contains : high levels of vitamins A (retinol), C and E, protein, carbohydrates, calcium, fiber, phosphorus, iron, thiamine, riboflavin, niacin
Content : 100% ground dried aguaje fruit (bot. Mauritia Flexuosa)
shares
View full details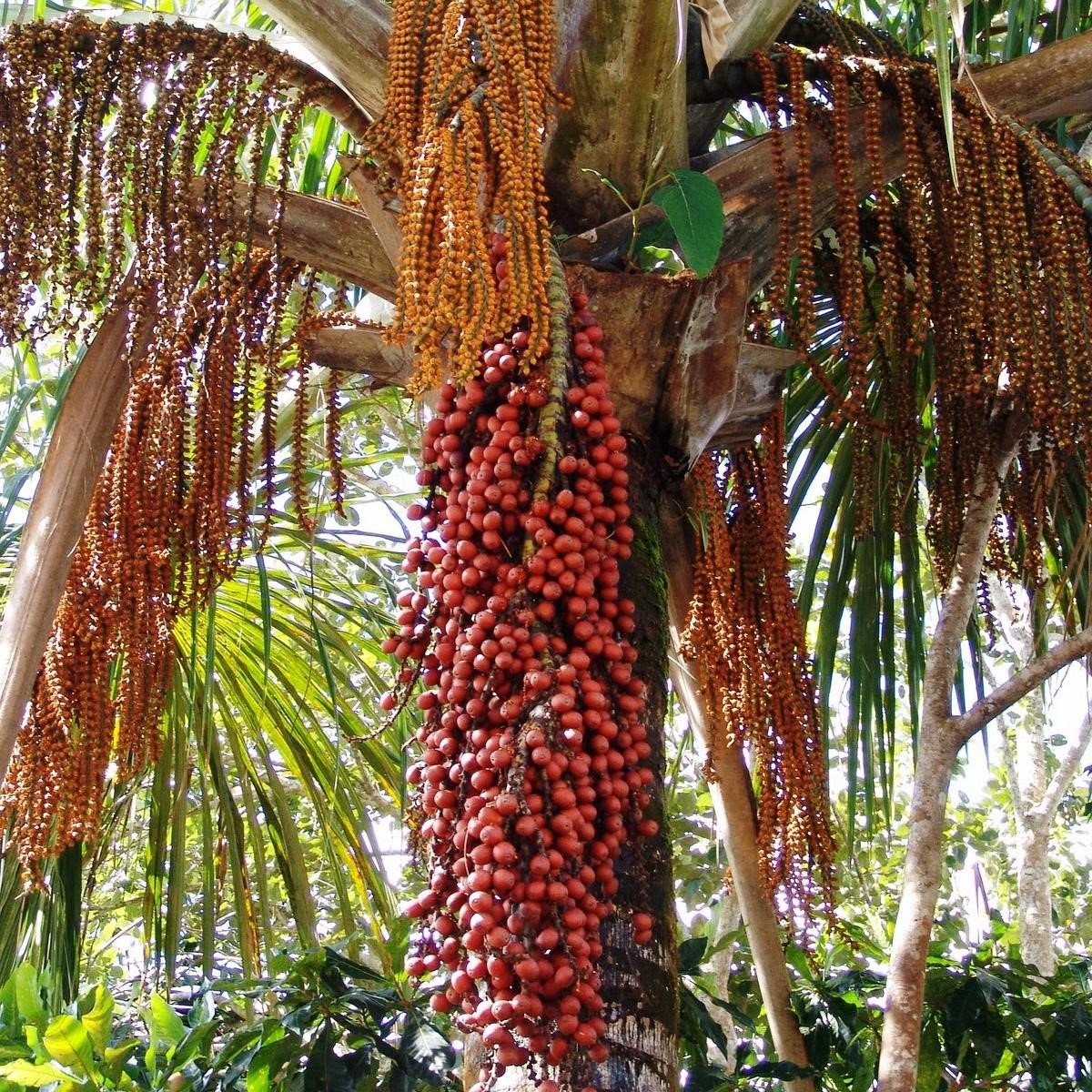 More about Aguaje
To the fruit and the benefits

Aguaje is a palm fruit traditionally used by women of the Shipibo tribe. It also offers refuge for rare birds and is an important livelihood not only for humans, but also for tapirs and jaguars.

The fruits, which resemble small dragon eggs, are a traditional part of the diet of women in the Shipibo tribe. Aguaje is rich in vitamins such as A, C and E and also contains protein, fiber and many important minerals such as phosphorus, iron and thiamine.

THE SPECIAL feature of Aguaje, however, is the special form of phytoestrogen - a plant hormone that is very similar to female estrogen. As a result, it balances the female hormone balance in a natural way and not only promotes beautiful skin, but also ensures healthy and strong hair and nail growth.

In fact, phytoestrogens from the aguaje fruit are recognized by receptors in the female body and hence have such potency . Aguaje fruits also have beneficial effects in relieving migraines and menstrual cramps.

Amazonian indigenous women also eat these fruits during pregnancy and after childbirth while breastfeeding, both to rebalance postpartum hormones and to transmit the beneficial effects to the newborn. They are also given to young children because they promote healthy growth and development of bones and muscles - boys up to about the age of seven - women and girls continue to consume them.

Aguaje's ability to shape a female figure has become a well-known phenomenon - there is even a special term among the various Native American tribes: "Aguaje models". These are women of Native American tribes who are distinguished by their natural feminine beauty, beautiful hair and harmonious feminine curves and lines.

Aguaje is also very suitable for neutered bitches to heal faster after the operation and has a positive effect on their hormone balance!
Dosage & nutritional values

Use : 1 teaspoon (about 4 g) per day. It is possible to add Aguaje to smoothies, fresh juices, muesli, porridge or just stir in water and drink.

Nutritional values ​​per 100g:

Energy 659 Kcal / 2,757 kJ
Fats 54g
of which saturated fatty acids 15g
carbohydrates 32g
of which sugar 2g
Protein 9.8g
Salt 0.2g

Note : It is not a substitute for a varied diet. To be on the safe side, ask your doctor about use during pregnancy and breastfeeding. Not for children under 3 years. Do not exceed the recommended dosage.